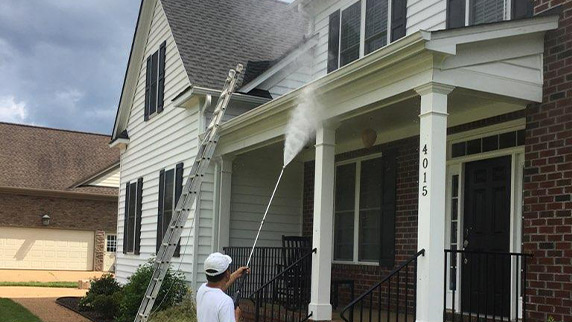 Driveways, decks, patios, parking lots and anything else outside can get dirty quickly. These outdoor areas weather the elements day in and day out, which can lead to debris buildups, stains, erosion and more. When it comes to restoring them to pristine perfection, you'll need to call Lighthouse Painting, LLC for power washing services in Newport News, Grafton, Tabb, Hampton, and Poquoson, VA.
We're your power washing experts, equipped with the tools and expertise to power wash your outdoor spaces and surfaces to an unparalleled level of cleanliness. They'll look brand new when we're done! Some of the jobs we're familiar with include:
Decks and patios: Getting ready to paint or stain your deck? Give us a call for a quick deck treatment in Newport News, VA. We'll ensure all debris is washed free from the surface and that it's properly prepped and ready for finishing.
Driveways and parking lots: Oil stains, rust, spray paint and other blemishes can make any driveway or parking lot look worn. We blast these stains and buildups away with ease, restoring a clean, fresh look to your drivable surfaces.
Exteriors: Homes, sheds, retaining walls and other exterior facades need to be washed clean from time to time. Instead of putting in hard manual labor to scrub them free of debris, let us power wash them clean quickly and easily.
Fences: Got a fence that's looking a little worse for the wear? If it's filthy or wracked with debris, we'll spray it down to restore its appearance and integrity.
In addition, we can power wash just about any other surface that can safely handle the high-pressure procedure. Our services are available to residential and commercial customers, and there are no power washing services too big or too small for us to tackle.
For more information about our abilities or to inquire about power washing services, deck treatments, and our painting services, please contact us today by calling 757-715-1650.