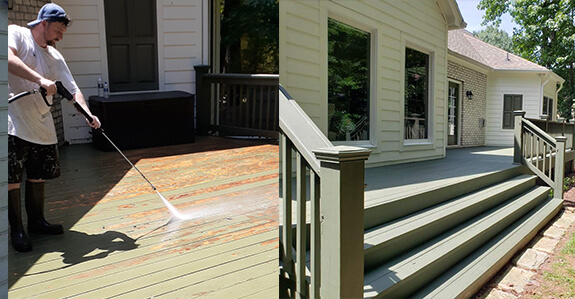 More than just an outdoor space for you to enjoy and entertain on, your deck is an extension of your home. Make sure you're giving it the same prideful attention as your interior. This means staining or painting it through deck treatments, and maintaining it to a superior level of perfection as only Lighthouse Painting, LLC can.
Whether you've enjoyed your deck for years or just had it built, we're ready to deliver an unparalleled level of finishing services. Whether you desire a fresh, natural-looking stain or want crisp, clean deck painting in Newport News, Grafton, Tabb, Hampton, and Poquoson, VA, our professionals always deliver.
Preparation Makes Perfect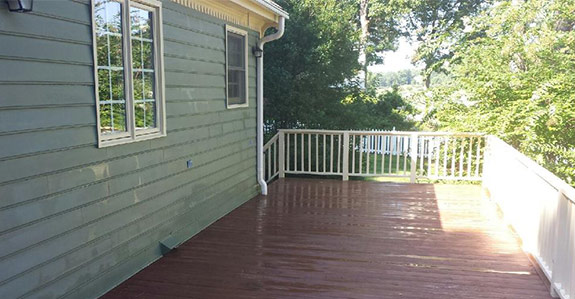 Unlike other deck painters in Newport News, VA that might just slap a fresh coat of paint on your deck or touch up the areas showing wear, we perform a complete job every time—starting with prep services.
Our team will prep your deck thoroughly before applying deck treatments. This means removing cracked or peeling paint or stain and sanding everything down to a fresh base for deck painting. Then, we prime the entire deck to ensure our final coat of paint is even, thorough and aptly applied.
Painting and Staining Perfection
When it comes time to paint or stain, we always aim for excellence. Our deck painters take the time to apply soft, even strokes that appear pristine when they dry. Every nook and cranny of your deck is painted—including those hard-to-see areas that other companies might skip.
When we're done, a thorough inspection is done before we sign off on the job. This ensures nothing is left unpainted and no blemishes are left behind. We leave you with a 100 percent completely finished job.
No matter how big or small, new or old, shape or style of your deck, Lighthouse Painting, LLC is ready to breathe new life into it. Contact us for deck painting or staining services and see just how thorough and professional our results are! Give us a call at 757-715-1650 for more information and estimates on deck treatments, interior and exterior painting, commercial painting, and more.